Shengtai focuses on the research and development of mechanical production of cartoning machineProvide professional industry solutions for thousands of customers
Company Profile


  Wenzhou Shengtai Machinery Co., Ltd. is located in Wenzhou, the "packaging machinery city", on the coast of the East China Sea. A modern scientific and technological enterprise integrating research and development, production, and trade is a national high-tech enterprise, which has passed CE certification, IS09001 quality system certification, and obtained many patents. He has been engaged in box paper packaging equipment for more than 10 years, has advanced technical force and production technology, has rich manufacturing experience, reliable product quality, reasonable price, and can provide customers with comprehensive services of equipment, technology, and raw material supply, helping customers build a professional, intelligent, and unmanned industrial 4.0 factory< br>  & emsp; Our company specializes in manufacturing high-speed horizontal cartoning machine, vertical cartoning machine, high-speed three-dimensional packaging machine, heat-shrinkable packaging machine, copy paper packaging machine, large rotary paper cutter, paper towel sealing machine, full-automatic label machine, etc. It is widely used in food, entertainment products, hardware and auto parts, daily necessities, cosmetics, medical and health care products, sanitary products and other industries to achieve full automatic production packaging.
Shengtai Machinery
Focus on the industry brand of "Shengtai cartoning machine"
More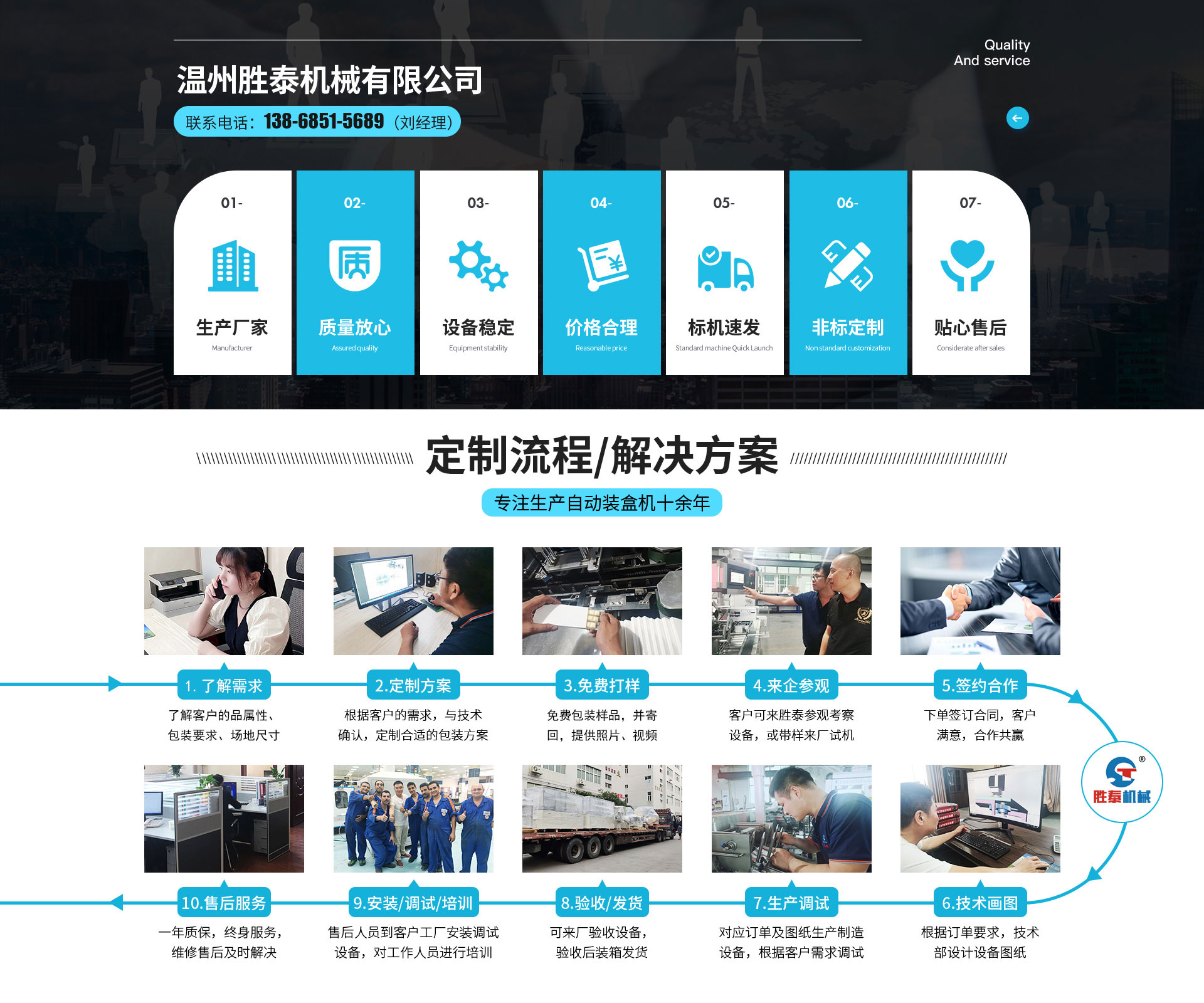 Why choose Shengtai


High-quality technology
We carefully select high-quality electronic components from suppliers around the world, including our PLC, touch screen brands and electronic components, Siemens, our sensor suppliers, SICK and servo motors.


Exquisite craftsmanship
We can provide quality assurance processes to meet the needs of customers around the world. At Shengtai, we provide after-sales warranty for the machine. Our company even has ISO certificate support, and our machines have CE certificate.

On-time delivery
The punctual delivery of machines plays an important role in our company. After signing the business agreement, we will start building machinery as soon as possible. On-time delivery helps us maintain vitality in the market.